Car Bingo - Bank Holiday Monday 2nd August - Supervalu Car Park (Town End not Supervalu End)
With over 100 participants, both young and old, a great night was had by all. This was a fully Covid compliant event since everyone remained inside their car for the duration of the bingo. It was a real innovative way of playing bingo, using a projector to display the numbers, loud speakers and also participants were able to tune in their car radios to hear the numbers being called (see photo of the projector screen below). With 11 games per bingo book, cash prizes were given for a line and a full house per game and the bingo ran for approximately two hours. A raffle was also held during the half time break, with all prizes being generously donated by local businesses in Bantry and members of Bantry Bay Lions Club. A terrific total of €1,500 was raised on the night. People had been denied access to bingo for eighteen months due to restrictions on indoor gatherings, so it was a very popular occasion. Future such events will definitely take place.
On that August Bank Holiday weekend a series of fundraising events were held in memory of 19 year old Tadgh Murphy who was tragically killed in a car accident in Glengarriff on the same weekend in 2020. His family organised the fundraisers to thank the Irish Community Air Ambulance Emergency Service and to mark the first anniversary. Events included a bucket collection in Bantry, a football match, sponsored walk and a raffle. An on-line funding contribution link was also used. The Bantry Bay Lions decided to participate in this fundraising effort as soon as they were made aware of it. They donated €1,000 from their drive-in bingo night to contribute to a total of €29,156 which was raised for this memorial fundraiser. This was a fantastic achievement for such a relatively small community and a tribute to the young man who was very much loved. The money raised, the highest amount ever by a local community, will fund at least 8 helicopter missions by Ireland's first and only charity funded air ambulance.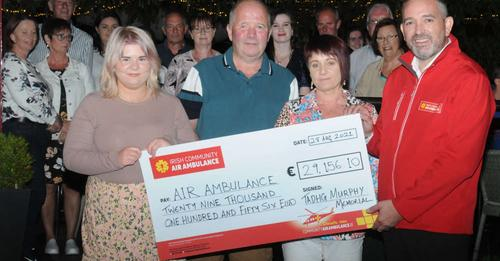 Pictured are the parents and sister of Tadgh presenting the cheque to the CEO of the Irish Community Air Ambulance Michael Sheridan. Also pictured is the President of the Bantry Bay Lions Club, Marion Rouse (behind to the left of Michael).
Provided by John Dervan, PRO – Bantry Bay Lions Club